Overview – Zimbabwe
Zimbabwe is one of the best Southern African safari destinations. In spite of its political difficulties, it offers a better safari experience and is home to some of the absolute best guides in the business. Zimbabwe sits between two extraordinary streams; the peaceful Limpopo toward the south and the powerful Zambezi toward the north. Here guests rush to see one of the marvels of the natural world – the fabulous Victoria Falls.
From the mountains and forests of the Eastern Highlands, and the stone peaks in Matopos to the mopane forests of Hwange and the waters of Lake Kariba, there is a lot here to appreciate. Mana Pools National Park, beneath the Kariba dam divider, is a UNESCO World Heritage site and wildlife paradise. For those needing a less well-trampled way, Gonarezhou National Park in the southeast is a distant wilderness region, and the country's second-biggest national park. Chizarira National Park, toward the south of Kariba dam, is another wild and detached spot, ideal for the more adventurous.
Rates (USD)200

CurrencyZimbabwean dollar

CapitolHarare

TimezoneGMT+2 (CAT)

Size390,757 km²

LanguagesEnglish

Wildlife46 Animals

High SeasonJuly to October

Best Time to GoMay to September
Pros & Cons
Amazing guiding experience
The Victoria Falls, Natural Wonder of the World
Excellent walking and canoeing safaris
Well priced safari options and low tourist densities
Beautiful and varied landscapes
Political instability
Decline of facilities in national parks
Wildlife numbers affected by poaching
Parks, Reserves and Wildlife Areas
Zimbabwe Map in Africa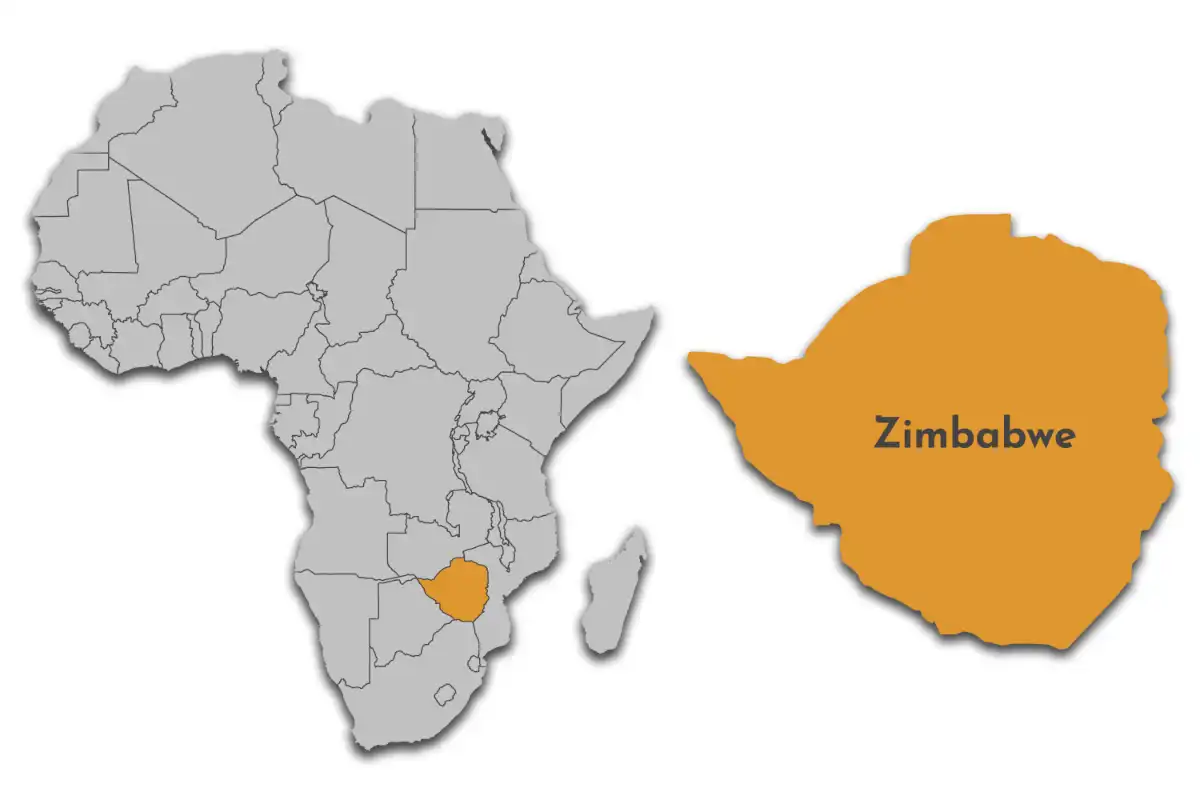 Zimbabwe Safari Reviews
Food – Zimbabwe
Zimbabwe's food is described by its exceptional and well-defined flavours on account of the utilization of flavours and spices in the majority of the recipes they prepare. The assortment of flavours and textures is amazing. This nation has an exceptionally rich and delicious culinary culture whose dishes stick out, in addition to their flavour, additionally for the simplicity of their preparation. The trick is to utilize high-quality raw materials. Meat products of different types prevail in the eating routine of individuals in Zimbabwe. Another main ingredient in the eating routine of the Zimbabwean public is fish; Particularly freshwater fish. Typically, they are cooked on a barbecue and eaten with rice or corn. However, they are likewise ready with various sorts of vegetables, both cooked and crude.
Some of the prominent dishes in Zimbabwe foods are Sadza (a sort of bread prepared with corn flour), Muriwo Unedovi (comprises of a plate of green cabbages prepared with a rich peanut butter sauce), Maheu (a well-known and common beverage in Zimbabwe), Mabhonzo emombe (stew prepared with beef bones), Nyama (cooked with leaves of various vegetables or with beans), Kapenta (a fish of Lake Tanganyika) and Traditional chicken stew.
Culture – Zimbabwe
Zimbabwe has many different cultures, which might incorporate beliefs and ceremonies, one of them being Shona. Zimbabwe's biggest ethnic group is Shona. The indigenous people of Zimbabwe follow back to Bantu origins and are accepted to have populated the land for over 10 centuries. The Shona and Ndebele individuals are the two biggest ethnicities. Conventional arts in Zimbabwe incorporate pottery, basketry, textiles, jewellery and carving. Among the distinctive characteristics are evenly designed woven crates and stools cut out of a solitary piece of wood. Shona sculpture in modern times has turned into a combination of African old stories with European influences. It is generally respected across the globe.
Wildlife & Animals – Zimbabwe
The wildlife of Zimbabwe happens preeminently in the remote or rough territory, in national parks and private wildlife reserves, in miombo forests and prickly acacia or kopje. Huge groupings of African buffalo, Black rhinoceros and African bush elephants are found along the stream's edges, while predators like lions, wild dogs and African leopards, along with African wildcat, serval, honey badger, civet and spotted hyaenas can be spotted regularly. Kudu, southern giraffe, plains zebra, impala, waterbuck, sable, roan, wildebeest, and even gemsbok feed on the encompassing fields and hippos and crocodiles are likewise various. Mana Pools National Park is an exciting off-the-beaten-track destination and offers unmatched wild to be explored by 4x4, by walking or by canoe. The truly accessible Hwange National Park has incredible variety and is astounding for great overall wildlife viewing.
Wildlife Highlights
The glorious sable antelope is a Hwange exceptional as well as brown hyena, bat-eared fox and springhare, which inhabit the Kalahari sands of the territory. Zimbabwe is a decent destination to see the endangered wild dog, and the nocturnal honey badger has become very acclimated in some areas of the parks and can once in a while be spotted around camps and camping areas at night.
Best Time for Wildlife Viewing
The best time to visit Zimbabwe for a wildlife viewing experience is during the dry season from May to October when water is scant, and animals assemble at waterholes and rivers. Afternoon showers can be expected in the Wet season from November to March.
Birds – Zimbabwe
Birding in Zimbabwe is by far one of the most remunerating experiences any beginner or genuine birder can envision. With over 670 species Zimbabwe flaunts varied habitats going from the lower Zambezi's Southern Carmine Bee-eater breeding sites to the Blue Swallow's Eastern highlands montane prairies. To truly encounter all that Zimbabwe brings to the table you require at a minimum couple of these habitats with their different birds. The country has no endemic birds, however, a few close endemics can be found in the worldwide significant Eastern Zimbabwe Mountains Endemic Bird Area (EBA).
Notable Birds in Zimbabwe
Best Time for Bird Watching
The best time to visit Zimbabwe for birding is during the wet season in summer between November and April when resident birds are nesting and migratory birds are available. The scenery is lush and at its most beautiful, but this isn't the best time for general wildlife viewing.
Best Time to Visit – Zimbabwe
The dry season in Zimbabwe runs from May to September and is the best time for wildlife enthusiasts to visit. At this time Victoria Falls is most amazing and wildlife viewing is amazing as animals assemble around the streams and waterholes. This is particularly obvious in Hwange where the artificially pumped waterholes draw in enormous crowds of the elephant.
Best Time

May to September
High Season

July to October

Low Season

November to April
Best Weather

April, May and September

Worst Weather

October & February
April to October (Dry Season)
Vegetation is thin and Wildlife can be easily spotted around river crossing and waterholes
Clear blue skies and most of the days are sunny
There are very less mosquitoes because of little rain
Even in high season, most of the parks will not get crowded except Victoria falls
The best time to see Victoria Falls is from May to September
Morning game drives can be difficult due to Cold weather, so warm clothes are recommended
October can get very hot
From March to May massive clouds of spray will block the view of Victoria Falls
November to March (Wet Season)
The best time for bird watching and migratory birds are present
The scenery is beautiful and green
As It's less crowded, rates are likely to be lower
Newborn baby animals can be spotted
Difficult to spot animals as they are no longer dependant on rivers and waterholes to drink
Victoria Falls might just be a small stream from October to December as the flow of the Zambezi river is at its lowest
Best Time to Go to Zimbabwe by Major Park
Most parks offer wildlife viewing opportunities throughout the year, yet they are at their best during the Dry season when wildlife is simpler to spot. Hwange is best visited in September and October when it is a magnet for large elephant groups. Photograph chances of Victoria Falls are best between May and December. The rainy season is a delightful time in Zimbabwe and phenomenal for birdwatching, however, the road conditions can be an issue, particularly the 4x4 tracks in Mana Pools.
Safari Reviews – Zimbabwe
Getting There – Zimbabwe
There are very few airlines that fly directly to Zimbabwe. Many of the international flights to Harare, Victoria Falls or Bulawayo require a change in South Africa, and then it's only a short flight to the final destination. Most tourists fly to Victoria Falls Airport (VFA), found 18km/11mi south of the town of Victoria Falls, and continue from there by vehicle or charter plane. Hwange, Zimbabwe's most well-known park, is situated within driving distance of Victoria Falls. In most cases, your local tour administrator will orchestrate pick-up from the airport and arrange further transportation as a feature of your safari package.
Requirements
All foreign visitors need a passport that is valid for at least six months
Passports must have minimum of three blank pages
Citizens from most nationalities do not require a visa and will get a 30-day entry permit on arrival.
When arriving from a country in Africa or the Americas where yellow fever is present, a yellow fever vaccination certificate is required.
If you are visiting Zambia and Zimbabwe, there is a joint visa for both countries available at all major ports of entry into Zambia and Zimbabwe.
Domestic Flights
Limited scheduled domestic flights between Harare, Bulawayo and Victoria Falls within Zimbabwe can be booked with the following carriers:
Air Zimbabwe
Fastjet
Important Links
Safety & Security – Zimbabwe
A world of opportunities awaits you on your trip to Zimbabwe, including spectacular views of the renowned Victoria Falls, wildlife adventures in national parks such as Hwange National Park with its large herds of elephants and Matobo National Park, where leopards roam freely and birds of prey soar in the sky, and scenic wonders such as Lake Kariba and Gonarezhou National Park's Chilojo Cliffs and Chivilla waterfalls.
Zimbabwe is, for the most part, a safe country. Visitors should, however, be cautious on busy streets and keep their goods within sight.
Please see the links below for travel advice on Zimbabwe Safari Trips: